The newly-completed greenhouse at our Wesley Woods home was dedicated on March 19, 2018 to Jane C. Schweers, a beloved member of the A.G. Rhodes Boards of Trustees and Advisors who passed away in 2016.
Jane's family and friends gathered to see the new greenhouse, and remember Jane's commitment and dedication to improving the lives of the residents at A.G. Rhodes.
Jane, who was the first woman named as an A.G. Rhodes Trustee Emeritus, was a huge proponent of having therapeutic and beautiful gardens and grounds for residents, their families and staff to enjoy, and this greenhouse was dedicated in her honor and memory as a constant supporter of A.G. Rhodes.
Remarks from the dedication, by Deke Cateau, A.G. Rhodes CEO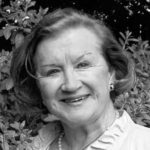 Thank you for being here today to honor the memory of our friend, Jane C. Schweers. I have asked Jane's son, Ted Schweers, who is on the Board of Advisors, to help us dedicate the greenhouse. This week is National Horticultural Therapy week and it is especially fitting, for so many reasons, that we are dedicating this greenhouse to Jane's memory.
Jane had a natural vibrancy. She was positive, strong and wise.
She was grounded. She was a woman dedicated to her faith, family and community.
She was nurturing. She cared for the Mission of A.G. Rhodes, and she cared deeply for the individuals she worked with on the staff and the Boards.
She was an A.G. Rhodes perennial. For more than 30 years, Jane was a long-time member of the Board of Advisors and later, a member of the Board of Trustees. Shortly before Jane passed, she was named an A.G. Rhodes Trustee Emeritus—the first woman named to that esteemed group.
She was mindful of her world and every single person in it.
She had an incredible ability to make the things around her bloom. When we first spoke about creating a therapy garden at A.G. Rhodes Atlanta, Wendy Murray and others had the vision for that garden and we used a landscape architect and a young horticultural therapist name Kirk Hines (who as fate would have it now works for us) to do the design. But it was Jane who stepped forward and helped us secure the funding to make it a reality. That garden at Atlanta jumpstarted our Horticulture Therapy program. It's not an overstatement to say that today A.G. Rhodes has the most robust horticultural therapy program of any nursing home in the state.
We are so grateful that members of Jane's family are here today as we pay tribute to her service. We appreciate all of you who made this greenhouse possible through your support of the Living Well Luncheon and in donations. I invite you to enjoy now—and for years to come—the Jane C. Schweers Memorial Greenhouse.
Click here to see more pictures from the dedication.