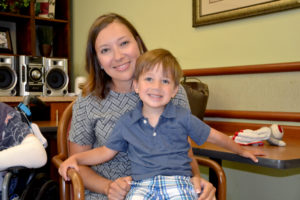 Adrienne Polite and her children, Max (age 3, pictured) and Mia (age 5), volunteer at our Cobb home during Music Therapy sessions and have brought so much joy to our residents and the program.
Adrienne grew up visiting nursing homes so she knows what happiness children can bring to seniors and wanted her children to feel comfortable with people of all ages.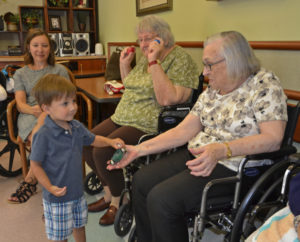 "I love watching the residents' faces when my son walks in," says Adrienne. "They just light up. A lot of them know him by name and he's the superstar when he walks in the room! Max takes his job handing out instruments and picking them up very seriously. He loves to have a job to do! I think it's cultivating a spirit of service in his little heart. He has developed a special relationship with a couple of the residents and talks about them by name often.
I think it's important to volunteer with nursing home residents to let them know that they are important. They have interesting stories to tell and those stories can teach us all. I also want these residents to feel loved and valued as people. I hope that they are reminded of that when Max comes to visit."
Thank you, Adrienne, Max and Mia, for being part of our volunteer family!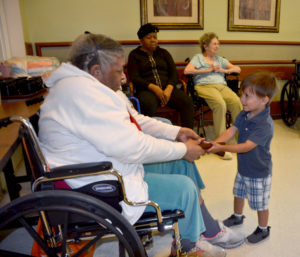 If you are interested in learning more about being a volunteer for Music Therapy or another program, visit www.agrhodes.org/volunteer.