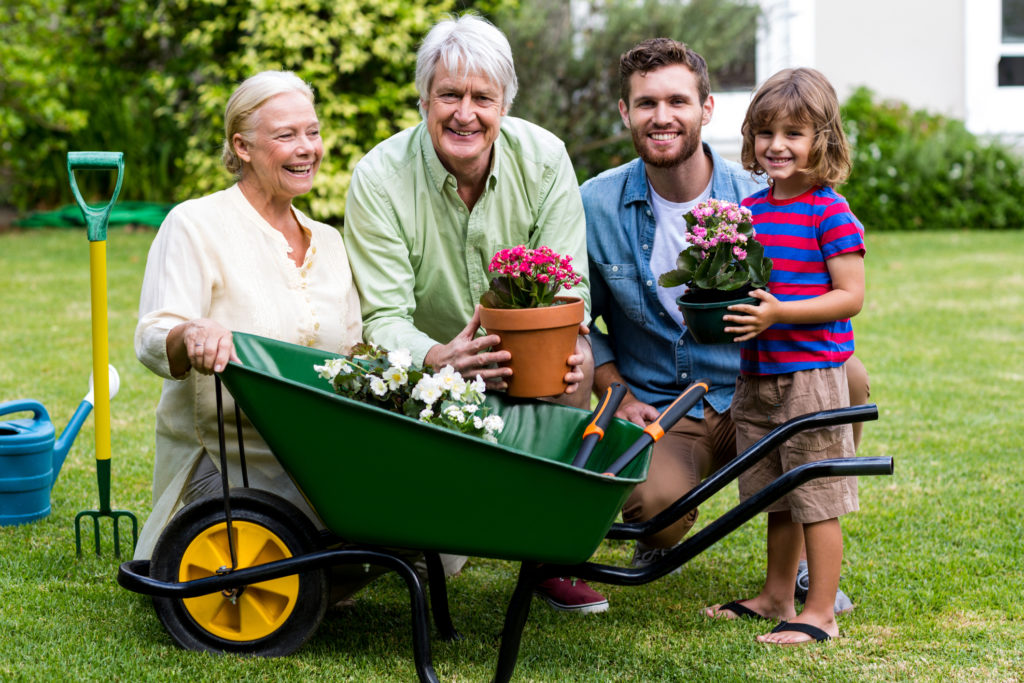 Seniors who've always loved gardening may worry that if their mobility begins to decline or if any other natural, age-related issues arise, they will no longer be able to enjoy this leisurely pastime. Fortunately, there are a number of simple things you can do to make gardening a sustainable act of leisure, exercise, mental stimulation and enjoyment for you or your senior loved one.
Tips for Creating a Custom, Easy-Care
Garden Experience for Seniors
Raise it up – While bending over for hours may have been easy when you were younger, middle to senior-aged backs become sore, stiff and tired much easier and faster. Raising planter beds to waist height (or higher) will eliminate the need to bend, giving you the comfort and stamina to weed, prune, plant and garden without feeling strained or in pain at the end of the day.
Get vertical with your green thumb – In addition to raising planter beds, you can also try your hand at vertical gardening, which involves using lattices to hang and support plants that thrive when trellised. Such plants might include beans, melons, squash, cucumbers and a variety of other vegetables and climbing vine plant varieties. Not only is caring for trellised plants easier on your hands, knees, back and entire body, if you grow vegetables, you'll also be able to enjoy fresh, healthy meals straight from your own garden.
Opt for ease – When selecting plants for your garden, choose ones that are low-maintenance, easy to care for and capable of withstanding the hail, high winds, tornadoes and other severe weather conditions we tend to experience from time to time in the Atlanta area.
Invest in durable, high-quality tools – Conditions like arthritis, which are common among older adults, can make holding pruners and other gardening tools difficult and painful. The good news is that there are all kinds of foam grips, extension poles and ergonomic tools you can buy to make pruning, reaching and digging significantly easier.
Although they may be more expensive up front, high-quality gardening tools
will be easier on your hands and last much longer than their cheaper, less durable counterparts.
Ease your knees – Two of the most beneficial items for seniors with green thumbs are kneeler stools and wheeled garden caddies. Kneeler stools are light, easy to transport around the yard and equipped with a thick foam pad to rest your knees on, as well as sturdy hand grips that make it far easier to stand up from a kneeling position. Not only will a kneeler give your knees a much-needed break while you're wrist-deep in the dirt, flipping it over transforms it into a stool you can sit on while tending to your plants or a comfy place to take a break. Wheeled caddies function similarly to kneelers, but have the added benefits of being a container in which you can store and easily cart around just about any tools you may need.
Clear a path – If you or your elder loved one use a cane, walker, wheelchair or any other mobility aid devices, getting around the grass and uneven dirt landscape can prove rather difficult. Adding pathways that are level and wide enough to accommodate these types of devices will help ensure anyone who has the desire to access your garden is able to.
Horticultural Therapy
in Georgia
Seniors who have a lifelong love for gardening but are finding it challenging to enjoy this leisurely pastime to the extent they used to in their younger years often benefit tremendously from horticultural therapy. In addition to a wide range of physical benefits, such as improved reaching, balancing, standing and sensory skills, horticultural therapy offers a variety of mental and emotional benefits as well, especially for older adults who may be feeling isolated or depressed.
The registered horticultural therapist and compassionate staff at A.G. Rhodes are dedicated to helping seniors throughout metro Atlanta meet specific treatment and rehabilitation goals in an environment where they feel comfortable, happy and at ease. To learn more about the long list of benefits for seniors who participate in our horticultural therapy program, or for more information about additional senior care services we provide, contact us today.