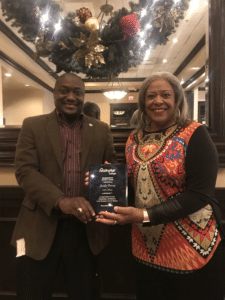 Jocelyn Dorsey is a household name in Atlanta. Most of us have seen her on television at some point throughout her 45-year-plus career as journalist for WSB-TV, Channel 2 Action News. During her career—and now in retirement—Jocelyn has devoted her time to many causes throughout metro Atlanta, including those that support our aging population.
At A.G. Rhodes, Jocelyn Dorsey is a beloved board member, volunteer and friend who has enriched the lives of our residents in many ways, and she has advanced important initiatives for the aging population in our community.
In recognition of her service earlier this month, Jocelyn received the LeadingAge Georgia Distinguished Service Award, which recognizes the achievements of members, Trustees of governing member boards, non-members, or institutions in making outstanding contributions toward the welfare of older persons.
"I was blown away that I was selected to receive the Distinguished Service Award from the statewide association, representing organizations dedicated to providing quality care that people need in places they call home," Jocelyn said. "Being recognized along with amazing health care professionals was a chance for me to acknowledge the very important work that they do."
A.G. Rhodes CEO Deke Cateau was among those who presented the award.
"My favorite attribute about Jocelyn is that she has embraced aging. She is a proud 71 and continues to age with grace and vibrancy," he said. "She lives by the credo that it's not how you start the race, but how you finish it. When she speaks to our residents, she encourages that love of life and life's experiences."
Several years ago—before she retired from WSB—Jocelyn began volunteering at A.G. Rhodes, co-hosting a popular session with residents with her friend and another longtime journalist, Alexis Scott. Jocelyn continues to lead this session—called Current Events — in a virtual capacity, bringing together residents from all three of our communities who have lively discussions via Zoom on the latest news and issues throughout our state and nation. Current Events is one of the most popular activities among our residents.
"Everyone is so engaged and wants to be informed about what's going on," Jocelyn said. "The sessions spark some great conversation and I think I'm benefiting from the discussions just as much — if not more — than they are."
Jocelyn has also served as an emcee for several Ms. A.G. Rhodes pageants and as an emcee for several A.G. Rhodes annual Living Well fundraising events. A couple of years ago Jocelyn joined our Board of Advisors, and earlier this year she joined our Board of Trustees. Among the many volunteer hats she wears at A.G. Rhodes, Jocelyn also serves on our Communications and Outreach committee, and she serves on our Equity and Inclusion committee, bringing valuable experience and insights to help our organization become more diverse, inclusive, equitable and fair.
A.G. Rhodes is incredibly grateful for Jocelyn's expertise in helping our organization, but more importantly, in her advancement of initiatives that support aging services.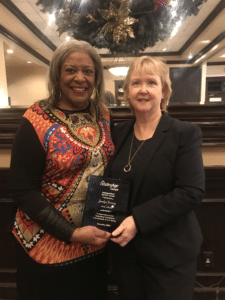 December 2021