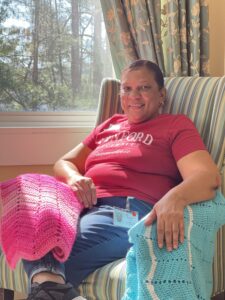 After spending several years caring for her mother who had dementia, Dotlin Powell found her calling as a caregiver for older adults.
Dotlin immigrated from Jamaica to the United States after her mother passed away, and in 2009 she began working as a CNA at A.G. Rhodes Wesley Woods. For most of that time, Dotlin has been caring for elders living with dementia.
"It's my passion," she said.
Dotlin has a gift for communicating with residents and understanding them despite the communications challenges that dementia brings.
"I listen and watch carefully, and I sense what they need."
Greg Heath, Administrator at A.G. Rhodes Wesley Woods, says that it's clear that Dotlin views her role as more than a job.
"Dotlin sees the elders and her fellow care partners as family. That's how she treats them. Her compassion is the first thing you notice about her."
Even when she's away from work, Dotlin is thinking about the elders. One of her hobbies is to knit blankets which she then gives the elders as gifts for Christmas and Valentine's Day.
"Every year since I've been here I knit blankets so they feel warm and loved. I like to give them bright colors."
Dotlin says that she wants families to know that their loved ones are being well cared for at A.G. Rhodes.
"I'm making them comfortable," she said. "I want them to know that A.G. Rhodes is a home away from home. It's an environment where we show love, care, and passion."
It's clear that Dotlin is proud and honored to do what she does, and her work brings her—and the elders—genuine joy.
"I'm inspired to go to work every day," she said. "At the end of the day when some elders look at me and say, 'Thank you very much,' it warms my heart."
More about Dotlin:
When she's not working at A.G. Rhodes, Dotlin enjoys spending time with her family, including her 3-year-old granddaughter and 2-month-old great-grandson.
March 2022