With the holidays here, many long-term care facilities like ours look for ways to involve the community in the various events and activities taking place. Seniors may feel isolated while living in long-term care or even temporarily going through a rehab stay, but when volunteers from the community visit, everyone can greatly benefit from the positive outcomes of participating in seasonal activities and events together. In fact, senior social interaction is associated with improved health and longevity, so be sure to do what you can to positively impact the lives of seniors near you.
Holiday Tree Trimming and Decorating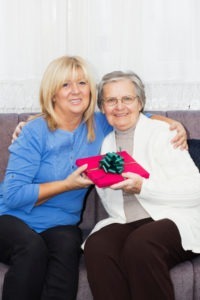 Most care centers celebrate the holidays by putting up holiday trees and other decorations., Volunteers from a troop of local Girl Scouts, Boy Scouts, or National Honor Society students can make a big impact with their visit to senior centers to work with residents to set up the trees and holiday decorations. Additionally, the presence of
community children will add some "normalcy" to the holidays for many seniors in residence.
Music Fun
Senior centers and facilities enjoy when chorus groups, bands and other musicians come perform holiday tunes for their seniors. It only takes a 30-minute concert to brighten the day of the residents who may be longing for some holiday cheer..
One-on-One Visits
Never underestimate the power of a simple visit with a resident in long-term care or other senior facility. It's one of the easiest, but most important, ways you can volunteer, especially during the holidays when some seniors may feel isolated or depressed living away from their families.
Volunteering at a senior facility is a great way to build a cohesive community and to demonstrate that your town cares for all of its residents. If you have an idea about how to involve seniors in Atlanta, be sure to contact A.G. Rhodes at 877-918-6413 or visit one of our homes in Atlanta or Marietta.