Therapy programs are an important part of senior care and are designed to improve a patient's motor skills, awareness, balance and coordination as well as his or her emotional well-being. Along with traditional programs such as physical and speech therapy, many senior care facilities offer alternative therapies such as music, art or even gardening. Depression and isolation are common problems experienced by residents of care facilities, and alternative therapy programs encourage patients to interact with other residents while improving their fitness and emotional health.
Art Therapy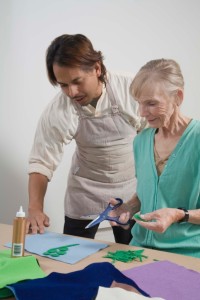 Art therapy is a popular form of alternative therapy that has been shown to be particularly useful for patients suffering from dementia or Alzheimer's disease. As dementia takes hold, patients lose the ability to communicate their thoughts and emotions through language, and this can lead to anger, frustration and eventually depression. Art therapy gives patients a means of expression and communication and can even be used to trigger forgotten memories. Many medical facilities use art therapy to improve patients' well-being by encouraging them to express their emotions through art. Art therapy classes also allow patients to socialize with one another, helping to eliminate feelings of loneliness or isolation.
Aquatic Therapy
Many senior patients suffer from chronic diseases such as arthritis that causes pain and swelling in the joints as well as restricted mobility. Physical therapy to try and improve mobility can be painful, resulting in patients who are reluctant to participate. Aquatic therapy takes place while the patient is submerged in warm water which supports the muscles and joints. The relaxing effect of water also helps to relieve stress and anxiety. Patients that suffer from conditions such as musculoskeletal pain, pressure sores and neurological disorders can also benefit from Aquatic therapy.
Horticultural Therapy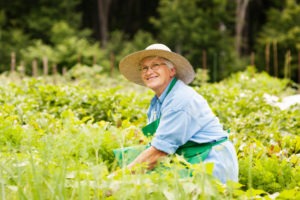 Horticultural Therapy offers a number of benefits for seniors and has proven to be extremely popular among patients. The therapy can take place outdoors, in greenhouses or even at a patient's bedside if they are unable to stand and bend. Under the supervision of a trained therapist, patients engage in light gardening such as sowing seeds, potting plants and general care and maintenance. Fragrant herbs and flowers have been found to help sensory stimulation among the elderly, and tending to a small garden can also increase a patient's fitness.
Music Therapy
Music is a wonderful way to improve a person's overall mood and well-being, and can also be used as a tool to help with physical rehabilitation. At A.G. Rhodes, the Songs for Seniors music therapy program improves patients' balance, motor skills, coordination and memory as they can sing, dance and even play instruments as part of a group or individually. Listening to music is also a great way to help dementia patients with memory loss as their favorite songs may help to unlock forgotten memories. Singing is also an effective form of speech therapy that may be useful for patients recovering from surgery or a stroke.
Ensuring that your loved one receives the highest level of care is our number one priority, and our trained therapists are ready to work with you to offer any additional therapies that may benefit your relative. If you would like to learn more about how our care facility can benefit a member of your family, call our office at 877-918-6413 or visit one of our homes today.
Speech therapy for seniors